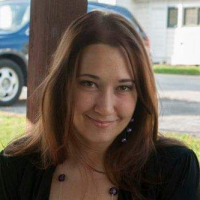 C.C. Warrens
Suspense, Christian Fiction
Jesus and laughter have brought C.C. Warrens through some very difficult times in life, and she weaves both into every story she writes, creating a world of breath-stealing intensity, laugh-out-loud humor, and a sparkle of hope. Writing has been a slowly blossoming dream inside her for most of her life until one day it spilled out onto the pages that would become her first published book.
If she's not writing, she's attempting to bake something--however catastrophic that might be--or she's enjoying the beauty of the outdoors with her husband. One of the many things she's learned since she started this journey is that the best way to write a book is to go on a long stroll with her husband. That is when the characters--from their backgrounds to the moments that make them laugh or bubble over with anger--come to life.
Books to the ceiling
Books to the sky
My pile of books is a mile high.
How I love them How I need them
Ill have a long beard by the time I read them.
Arnold Lobel